Wake Forest lands pledge from three-star WR Markeis Barrett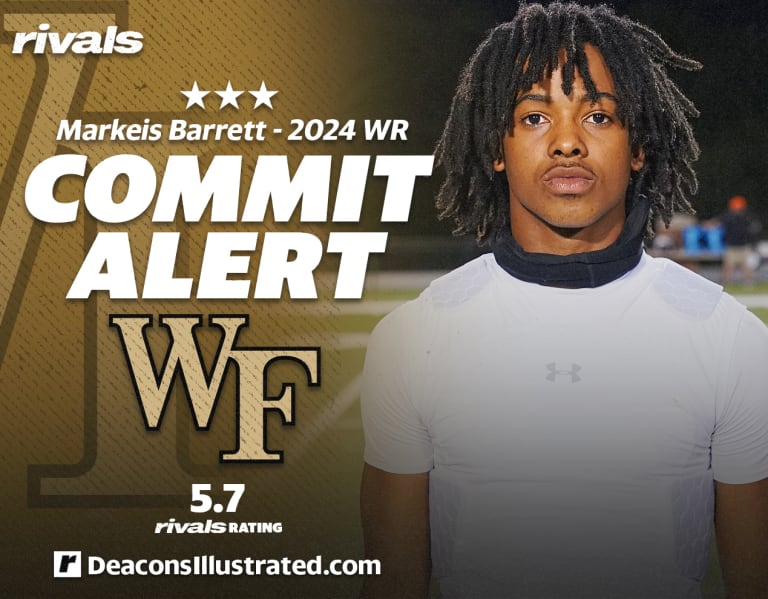 Relationships are huge in college football recruiting and that's the biggest reason why Knoxville (Tenn.) Webb School wide receiver Markeis Barrett is now committed to Wake Forest.
Throughout his recruiting process, Barrett has maintained a great rapport with Demon Deacons wide receivers coach Ari Confesor and offensive coordinator Warren Ruggiero.
"The coaching staff was the biggest reason I chose Wake Forest," Barrett noted of his decision. "Everything has been real with them since day one. I visited once in the spring and they came by my school to see me and I've always felt the love from them. Ever since they started recruiting me, we've had a good relationship. Ever since they offered me, we've talked everyday from that point on."
The three-star prospect visited Wake Forest for their spring game and enjoyed hanging out with the coaches and seeing the support from the fans.
During his visit, Barrett also got a chance to talk one-one-one with head coach Dave Clawson.
"While I was there I had a very good meeting with the head coach (Clawson), it was great. The whole meeting, we looked each other in the eye and was just straight up. Everything was genuine."
At 6-foot-1, 170-pounds, the Demon Deacons' staff see Barrett as a big-time playmaker in their high-powered passing game.
"They like me at the slot position. They like my athleticism and ability to make plays along with my IQ, quickness, and my passion to win."
"I like the way they throw the ball and I like their offense. They allow the quarterback to make reads inside and outside with the read option."
Barrett plans to return to Wake Forest for their cookout event in June and will take his official visit with the Demon Deacons in December.
Illinois, Vanderbilt, Virginia Tech, Ole Miss, Tennessee, Boston College, and Arkansas were some of the other notable offers on Barrett's resume.