Channing Tatum's Movie Stardom Is Unshakeable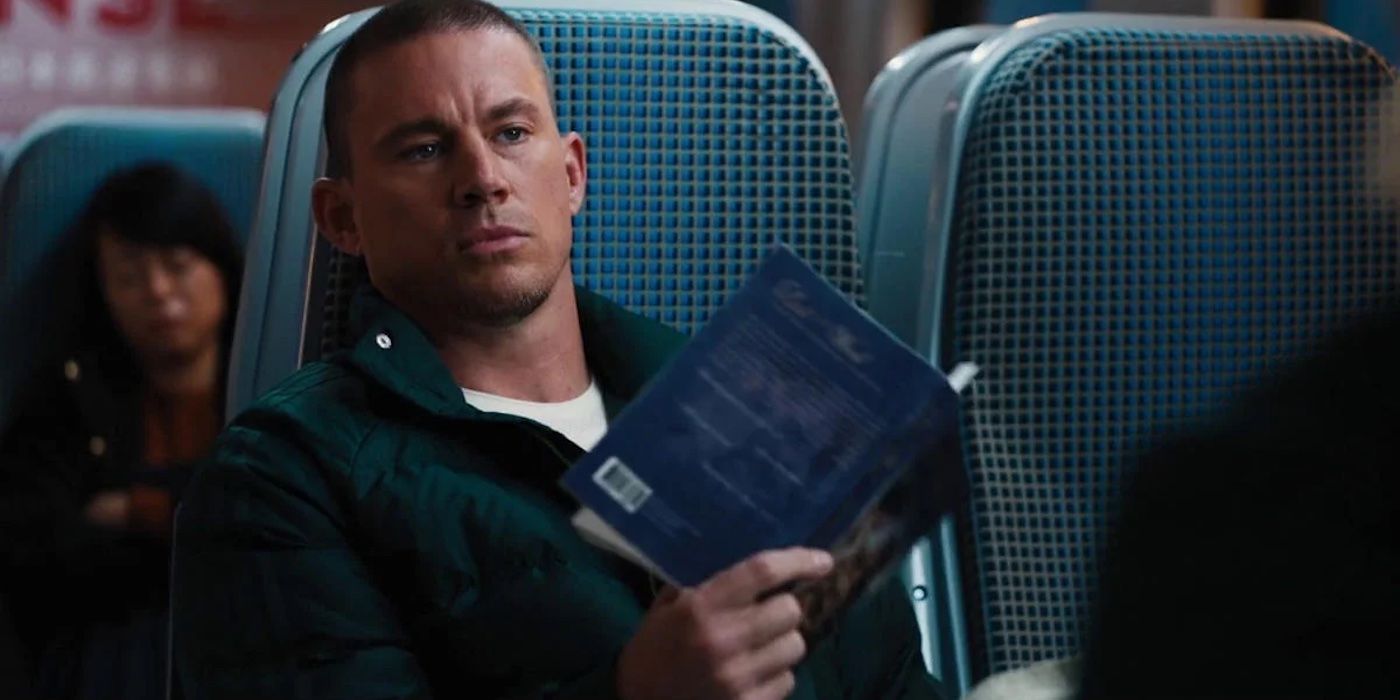 In 2022, Channing Tatum returned to appearing in live-action movies. Besides a brief Free Guy cameo, Tatum hadn't appeared in a live-action movie since 2017. The man who hit several box office home runs in 2012 had been away for a while to be a dad but was now back at the forefront of the box office. Despite all that time away, Tatum's box office hot streak in 2022 made it seem like he'd never left. Tatum's charming movie Dog ended up being a major sleeper hit, while The Lost City was the rare modern romantic comedy to crack $100 million in North America.
There's no denying it, Channing Tatum is just as much a movie star as ever. While it's easy to chalk up that chiseled body as the sole reason he's excelled as a box office draw, there's a lot more going on here to explain why Channing Tatum has become such an enduring favorite of the big screen.
Channing Tatum's Earliest Movies Showed Signs of Stardom
While 2012, with its combination of The Vow, 21 Jump Street, and Magic Mike, was a banner year for Channing Tatum as a leading man, this wasn't the first year the actor had anchored incredibly profitable motion pictures. After showing up in a major supporting role in Coach Carter, Tatum established himself as a heartthrob and a prominent actor in the 2006 titles She's the Man and Step Up. You only get one chance at a first impression and Tatum's introduction to the public turned out to be perfect. Man and Up were not award-season darlings, but they were deeply popular movies. GIFs of key moments from She's the Man are still popular on the internet today while Step Up proved popular enough to inspire a slew of sequels.
Attaching his face to such crowd-pleaser movies immediately put Channing Tatum in the good graces of moviegoers. Plus, Step Up introduced just how remarkable Tatum was in his physicality. When he's out there dancing his heart out as the cash-strapped Tyler Gage, Tatum doesn't look like he's out of his depth. If anything, he seems to be thriving with complicated dance choreography. It isn't every day that the American movie scene produces a leading man in movies with those kinds of deft feet. It was a skill set that immediately set him apart from other leading men of the late 2000s and it wouldn't be the last time this gift would serve Tatum well in his acting exploits.
Channing Tatum also established in his early years a willingness and excitement to work with auteurs, with even the seemingly standard romantic drama Dear John offering him a chance to work with Oscar-nominated Lasse Halstrom. That concept itself wouldn't exactly be on the minds of most general moviegoers, but it did allow Tatum to show some flexibility in the projects he chose. Through following iconic filmmakers anywhere and everywhere, Tatum began to show up in a variety of projects, with even his 2009 slate of films (Fighting, Public Enemies, G.I. Joe: The Rise of Cobra – one film in a franchise he hated working on) all spanning different genres. Even before 2012 redefined what Tatum could do, this actor was demonstrating an exciting willingness to try new things that often defines the biggest movie stars.
2012 Changed Everything for Channing Tatum
Nothing, however, explains Channing Tatum's enduring status as a movie star more than his crop of movies in 2012. The Vow, 21 Jump Street, and Magic Mike wouldn't be considered remotely similar under any other circumstances, but in 2012, they were all connected by being Channing Tatum star vehicles that excelled at the box office. Each of them inhabiting a different genre, a great demonstration of this actor's willingness to try new things, Tatum got to reinforce his status as a dreamboat, establish his chops as a comic performer, and even draw from his history to deliver a thoughtful drama, all across these three motion pictures. With this trio of features, Tatum's status as a beloved movie star was assured. Magic Mike even gave him an original character to inhabit that could always be associated with Tatum. Whereas Tatum would always have to inevitably share superhero roles like Gambit, Magic Mike was forever and ever associated with Tatum.
By the following year, Tatum's elevated status as a movie star in mainstream cinema was made all the more apparent by something quietly important: cameos. Though these roles may seem like they're only around to provide fodder for movie-themed trivia games, they do serve a purpose in reinforcing who is and isn't resonating with the public. They don't just get unknown faces to do stunt celebrity cameos, they're always inhabited by people assumed to be famous enough to register as recognizable to global moviegoers. In 2013, Tatum made a pair of notable cameos in Don Jon and This Is the End that cemented his movie star status. Additionally, appearing in a crowdpleaser comedy like This Is the End only broadened the man's appeal.
After mastering the R-rated comedy, Tatum expanded his movie star image to include prestige pictures, thanks to his prominent role in Foxcatcher, his surprise appearance in The Hateful Eight, and his unforgettable musical number in Hail, Caesar! None of these movies were as big as 22 Jump Street, but they reinforced Tautm's interest in working with auteurs. Plus, Tatum's presence in the star-studded ensemble casts of throwbacks to classic Hollywood features like Eight and Caesar had really solidified just how far he'd come in his image as a leading man. Now he was seen as being able to stand next to the likes of Samuel L. Jackson or Tilda Swinton. With major movies and their rampant marketing campaigns constantly telling audiences Channing Tatum was a vintage movie star that somehow landed in the modern world, it's no wonder audiences began to latch onto this guy.
Leading Man Channing Tatum Is Here to Stay
All of these complex and incidental (in that Tatum could've never planned for things like landing on Quentin Tarantino's radar) qualities speak volumes to why Tatum is still such a movie star. But it also can't be denied that a key part of this is also that Tatum is just a talented dude. Hollywood is constantly shoving new pretty white boys down people's throats, often to comically underwhelming results. That makes the fact that Channing Tatum can actually land a joke or be convincing in romantic scenes all the more remarkable. The assembly line of modern conventional Hollywood leading men doesn't always produce guys who're itching to do movies like Magic Mike.
When that kind of talent comes along, especially when it manifests in audience-friendly features like the 21 Jump Street movies, it's bound to catch on with the general public. It's no surprise, then, that Channing Tatum has stuck around as a movie star even after a five-year gap from headlining live-action motion pictures. There's lots of intricate factors informing why Channing Tatum endured like this, but sometimes, being handsome, talented, and capable of delivering a musical number like "No Dames!" is enough to cement somebody as a movie star.